---
VOICI VENU LE TEMPS
Alain Guiraudie
France, 2005
comedy drama

A social, political and economical fable taking place in a not country in which people exploit one another, betray one for love by all means.

Suppléments :
Interview with Alain Guiraudie

---
CHRISTOPHE COLOMB, L'ENIGME
Cristovao Colombo, o enigma
Manoel de Oliveira
Portugal, 2007
adventure

Upon graduating from Coimbra University in Portugal, Manuel Luciano takes his nex bride on an extended honeymoon. As one of his greatest passions is researching the Portuguese Maritime discoveries, they travel to famous ports in anda round Portugal and America. At the conclusion of their journey. Manuel discloses his latest conclusions concerning the famous explorer : Christopher Columbus.

Suppléments :
"Christophe Colomb, l'avant première", interview with Maria Isabel and Manoel de Oliveira.

---
L'EXPEDITION
Abhijan
Satyajit Ray
India, 1962
drama

Set on the Bihar-Bengal border, where Marwari businessmen — a powerful Hindi-dialect community of entrepreneurs much disliked throughout India — and Rajputs of warrior caste (from Rajasthan) have both settled. The central character of Narsingh (Soumitra Chatterjee), is a disillusioned, frequently drunken Rajput reduced in status to an ill-educated taxi driver. Proud and hot-tempered, with a passion for his 1930s Chrysler, Narsingh is offered work transporting tins of ghee for Sukhanram, a shady merchant, and finds himself drawn against his better judgement into trafficking opium. Having failed in everything honest, he has to decide whether or not he will engage in criminal activity to make money.

---
LES 7 VIERGES
7 Virgenes
Alberto Rodriguez
Spain, 2005
drama

For a few hours Tano gets out of the reformatory that he has been placed in to attend his brother José's wedding. This is the time to meet up again with his best friend Richi, with his girlfriend Patri, with his nonagenarian grandmother who lives at home, with the members of his neighbourhood gang...

Suppléments :
Making of

---
LE RIDEAU DE SUCRE
El Telon de Azucar
Camila Guzmàn Urzùa
Cuba, France, 2006
documentary

In this intimate autobiographical portrait, the filmmaker, who was born in Chile in 1971 but after the 1973 coup moved with her family to Cuba, returns to Havana (which she left in 1990), to look for her childhood friends, and to see what became of the 'golden years' of the Cuban Revolution in which they grew up.

Suppléments :
- interview with the filmmaker Camila Guzmàn Urzùa
- UNE FAMILLE CUBAINE, a short film by Yan Vega

---
LES PAUMES BLANCHES
Feher Tenyer
Szabolcs Hadju
Hungary, 2006
drama

Scarred by his abusive training as a youth in Communist Hungary, gymnastics coach Dongo struggles to prepare an overconfident athlete for the 2001 Calgary Olympics. In the course of guiding his student through a grueling physical regimen, Dongo fears he may be inflicting some of the horrors he endured as a child, and fights to reconcile his past with his present.

Suppléments :
"Les Paumes Blanches", the preview

---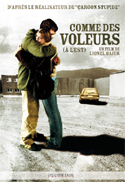 COMME DES VOLEURS (A L'EST)
Lionel Baier
Switzerland, 2006
road-movie

On the outside, Lionel appears to have everything he needs: a successful career, loving parents who accept his homosexuality, and a charming lover. Nonetheless, there seems to be something lacking...

Suppléments :
- interview with Lionel Baier (filmmaker)
- interview with Robert Boner (producer)
- deleted scenes
- making of
- version with a commentary

---
O FANTASMA
Pedro Rodrigues
Portugal, 2000
drama

A dog barks and scratches a closed door. A pair of eyes appear behind a black rubber mask. Sergio is rebuilding the world. Guided by an insatiable desire, he plays only for the win. Uninterested by everything, he earns a small salary as a garbage collector in North Lisboa and lives in loneliness, thinking about nothing but men's sexes.
But one night, his eyes find the ghost of his dreams.

Suppléments :
Interview of the director made by Jean-Marc Lalanne (rédacteur en chef des Inrockuptibles), commentaire audio du réalisateur, video casting de l'acteur principal Ricardo Meneses, scènes coupées, filmographies, bandes-annonces, photos du tournage.

---
KRAMPACK
Cesc Gay
Spain, 2003
comedy

I don't want to be seventeen before having sex.
Spain, summer 1999. Dani invites Nico, his schoolmate and best friend, into his parents' summer house at the seaside.
During ten days of freedom, together they will discover love, sex, jealousy and disappointment. That's how they will cross the thin border between adolescence and adulthood.

Suppléments :
Making of, interview of the director and actors, vidéo clip, trailers, filmographies...

---
LE BAL DES CHATTES SAUVAGES
Katzenbal
Veronika Minder
Suisse, 2005
documentary

Women attracted by other women existed long before people started talking about them. Five Swiss women from various generations share their experience to rewrite the history of a pretty discreet minority : their search of identity, their relationships and the places where they meet, often kept secret. A collage of archive photographs and old documents funnily enlightens these interviews. A unique look on the fact of being different and achieving a life of happiness.

Suppléments :
Two interviews of Veronika Minder, biography of the director, trailer, catalogue Epicentre Films

---
ALICE
Sylvie Ballyot
France, 2002
drama

Alice is 20-year-old. Her sister Manon is leaving her : she's getting married. Alice meets Elsa. Through her, Alice lives her love for Manon again. These two loves fade into each other, the past mixes with the present, imagination with reality...

Suppléments :
POUR ELLE, short cut directed by Sylvie Ballyot, making of, filmography, galery of photos, catalogue Epicentre Films.

---