---
DYNAMO
Stephen Dwoskin
1972
experimental cinema

Each Dwoskin film could be described thus: a man watches a woman who returns his gaze. This arm wrestling match lasts as long as it needs, at times as soft as a caress, as intense as a demand. At times fear, rejection, wounded pride and withdrawal permeate this tense cinema paralyzed by gazes at the camera. Like at a peep show, his films watch in complete isolation. They speak to everyone's solitude (Philippe Azoury)

Suppléments :
MEMORIES OF DYNAMO de Pip Chodorov et Gloria Morano

---
LA PART DU HASARD / LE REVE EVEILLE
Patrick Bokanowski
France, 2003
experimental cinema / documentary

This video edition brings together the only two documentaries directed to date by Patrick Bokanowski, filmmaker of the imaginary. For 35 years he has brought us a body of work rich in extraordinary characters inhabiting mental environments, on the edge between figurative and abstract art. But here, rather than weaving fantastic dreams, he presents in a direct and realistic style two striking personalities who themselves work to uncover the world of the imaginary and the world of dreams, the painter Henri Dimier, and the psychotherapist Colette Aboulker-Muscat.

---
LES AVATARS DE VENUS
The Venus Avatars

Jean-Jacques Lebel
France, 2007
experimental cinema


---
SHOOT SHOOT SHOOT
Guy Sherwin , Malcolm Le Grice, Mike Leggett, Peter Gidal, Stephen Dwoskin, Jeff Keen, William Raban, Chris Welsby, Annabel Nicolson, David Crosswaite, Lis Rhodes, Marilyn Halford, John Smith
UK, 1965-1975
experimental

LUX are proud to announce the release of the DVD SHOOT SHOOT SHOOT: BRITISH AVANT-GARDE FILM OF THE 1960s & 1970s, the first time that works from this defining period in British artists' filmmaking have been made available on DVD or video. The DVD is released to mark the 40th anniversary of the London Film-Makers' Co-operative, which was established on 13th October 1966. The LFMC grew from a film society at the heart of London's sixties counterculture to become Europe's largest distributor of experimental cinema and was recognised internationally as a major centre for avant-garde film and is the predecessor organisation of LUX.

---
DIARY
David Perlov
Israël, 1973-1983
Documentary

A praise of urban life, of street spectacle, a poeticvision of the intimate universe of the family, the film highlights daily experience through which its author manages to reveal its deep humanity and existential charge. Now a classic, this film sagais regarded as the most influential work of the Israeli documentary school.

Suppléments :
MY STILLS 1952-2002

---
DADA CINEMA
Hans Richter, Viking Eggeling, Man Ray, René Clair et Francis Picabia, Fernand Léger et Dudley Murphy
Europe, 1921-1927
avant-garde

"The cinematographic universe of Dada is a crossroad of iconographic subversion and abstraction, formal geometry and corporeal eroticism, bathed in a general indifference to "making sense" - unless it is making sense of its own deconstruction". P.-A. Michaud

---
LE LIT DE LA VIERGE
Philippe Garrel
France, 1969
experimental

THE VIRGIN'S BED bears atheistic witness to a world which demands both impurity and sanctity, without apparent contradiction. It discusses a sanctity impossible to maintain in a world nourished by violence.

Suppléments :
HOME MOVIE, Frédéric Pardo, 1968

---
DEUX FOIS
Jackie Raynal
France, 1969
experimental

Jackie Raynal's film repeats each scene two times, and calls into question the "Once Upon a Time" that marks the beginning of a conventional story. This black and white film, practically a silent film, is a study of minimalism and clarity. The scenes of DEUX FOIS, sometimes repeated with a touch of nonsense, accentuate the fluidity of time, and give a musical rhythm to the film.

Suppléments :
AUTOUR DE BARATIER, Jackie Raynal

---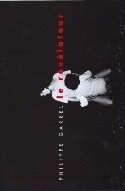 LE REVELATEUR
Philippe Garrel
France, 1968
experimental

An elegy in simple language that follows a sinuous path, LE RÉVÉLATEUR encloses its spectators in a timeless, symbolic universe which seems prone at any moment to self destruct. The shots drip with a desperate poetry, inhabiting the realm between under- and over-exposure, between on and offscreen, day and night, waking and sleeping, and existing under the constant threat of dissolution.

---
STAR SPANGLED TO DEATH
Ken Jacobs
Etats-Unis, 1956-2004
experimental

"Initially shot in 16-millimeter between 1957 and '59, periodically expanded and updated over the following decades, and completed last year on video in a six-and-a half-hour final version, Ken Jacobs's magnum opus of political protest is made of the same basic ingredients as the rest of his oeuvre: beautifully shot scenes of cavorting friends and comrades (including Jerry Sims, a pre-Flaming Creatures Jack Smith, and some recent anti-Bush protesters) and found footage (including most of Nixon's "Checkers" speech, campaign propaganda for Nelson Rockefeller, a fatuously racist documentary about Africa, and Al Jolson in blackface). Semi-indigestible by design, this nonetheless steadily builds in political and historical resonance". Jonathan Rosenbaum

---
14 FILMS 1/3
Stephen Dwoskin
UK, 1968-2003
experimental

"My film-making is much better suited to being watched by a single viewer. I take the viewers one by one, unlike Hollywood cinema which aims to amalgamate the audience." Stephen Dwoskin.
5 DVDs box


---
CINEXPÉRIMENTAUX #7 STÉPHANE MARTI
Stéphane Marti, Frédérique Devaux, Michel Amarger
France, 1979-2005
experimental

ALLEGORIA, 1979
DIASPARAGMOS, 1980
MIRA CORPORA, 2004
A filmmaker and academic, Stéphane Marti has pursued cinema as a visual art form, divorced from the codes of the dominant narrative cinema, since 1976. He is a passionate and militant advocate of Super-8, a filmmaking tool which he has used for 30 years. His work has been shown in festivals and international presentations and has elicited numerous articles and interviews. His flamboyant, baroque and sensual style focuses principally on the Body and the Sacred.

Suppléments :
LES ACTANTS de F. Devaux et M. Amarger, 2003-2005
LA CONCEPTION SONORE de F. Devaux et M. Amarger, 2003-2005


---