Doc Net Films
Doc Net Films is a creative documentary DVD publishing & distribution structure, with more than a hundred films published and distributed since the beginning of its activity in 2004. This catalogue is composed of works expressing authors' outlooks, unique representations of reality, via a profoundly creative and free formal approach.

We are deeply driven by the desire to offer a concrete and perennial existence to rare and yet incredibly rich films, but excessively unknown and condemned to slow oblivion. Threw its action, Doc Net Films is fervently committed in making these documentary outlooks meet with all audiences in search of singularity.

The films we publish all share proposals of subjective views on the world today, its fundamental transformations, and their consequences – both visible and invisible – on human lives. Nine main themes bring all of them together: Portrayals, Commitments, Exiles, Memories, Africa, Families, Globalization, Researches, and Arts.

In addition, Doc Net Films has recently launched to new unseen and exciting collections:

− the Fragments d'une œuvre collection (Fragments of works) proposes upscale DVD box sets gathering several films by important and atypical documentary makers, whose still young filmographies already reveal fascinating authors. Each box set includes three DVDs and an elaborated critical leaflet, and will offer a thrilling dive in a creative universe, through the exploration of films echoing between one another, embodying a reality cinema in construction. The three first inaugural box sets are devoted to Belgium film makers Pierre-Yves Vandeweerd, Benoit Dervaux and Patric Jean.

− the Afrique en docs series (Africa in docs) is a rare selection of films dealing with the African reality, directed by African documentary makers – critically under-broadcasted – as well as by European film makers. A precious collection, shedding light upon Africa as it is, through non spectacular viewpoints, in-depth approaches of the continent's present time. Far – very far – from the journalistic footage on Africa, almost constantly misery-oriented, apocalyptic, outlandish or exotic.

Lastly, Doc Net Films has lately initiated an innovative concept of limited edition events-connected releases: this concept is based on the publishing – during the two major French documentary festivals, the Etats généraux du film documentaire and the Cinema du Réel – of a selection of films screened in the different sections of these two gatherings. The purpose of which being to link festival-time emulation and documentary film DVD publishing, creating a constructive synergy between the two. All the more so with spectators knowing very well that the films they discover in such festivals might be quite hard – if not impossible – to catch elsewhere. Thus this collection is conceived has the result of a specific wish, that of perpetrating a shared moment, and offering the audience the possibility to immerse back in a few strong pieces.

Doc Net developed its diffusion activity in a unique way, willing to find alternative networks to major cultural retailing, and bringing documentary as close as possible to its audience. Our DVDs are available in multimedia libraries, schools and sociocultural associations, as well as online on our website www.docnet.fr. Furthermore, Doc Net distinguishes itself by distributing its catalogue in independent bookshops in France. This proactive distribution system bears a strong signification in the way it brings literary and cinematic processing of reality to walk alongside. And we at Doc Net greatly believe in this book-DVD association. Creative documentary, like humanities, « avoids the flow of sensational and spectacular images which cultivate immediacy. It embodies, alongside to letters, the memory and the possibilities of humanity. » (Jean-Marie Barbe, Doc Net Films).

Site :

www.docnet.fr

Adresse/contact :

DOC NET FILMS
Le Village
07 170 - Lussas
France

+33 (0)4 75 94 24 54

contact@docnet.fr

---
CEUX DE LA COLLINE
Berni Golblat
Switzerland, France, 2009
documentary

A makeshift gold mine on the remote Diosso hillside in Burkina Faso has attracted a swarm of gold-diggers and dynamite blasters, healers and dealers, vendors and prostitutes, children, holy men and barbers. Living in the promiscuous closeness of a crowded and improvised gold town, these men and women are recklessly determined to find the gold that will change their lives. The film explores their desperate quest for fortune and elusive happiness. The gold rush is relentless.

---
LES FILMS RÊVÉS
Eric Pauwels
Belgium, 2009
documentary

One day, a filmmaker dreams. He dreams about making a film that would contain all the films he once dreamt of making. All the uncompleted films, all the attempted trials, abandoned or rejected, all the impossible projects would end up in one film constructed like a dream, a huge fresco of the unfinished and the unfeasible…

---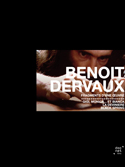 COFFRET FRAGMENTS D'UNE ŒUVRE : BENOIT DERVAUX
Benoit Dervaux
France, 2002
documentary

Discover or rediscover three rare films by Benoit Dervaux – the Dardenne brothers' cameraman and talented documentary filmmaker – assembled in this 3 DVD box set: GIGI, MONICA... AND BIANCA (codirected with Yasmina Abdellaoui, Belgium, 1996, 84 min), LA DEVINIERE (Belgium, France, 1999, 90 min), and BLACK SPRING (France, Luxembourg, Belgium, 2003, 26 min.).

"His artistic approach is both simple and radical: to follow his characters step by step, hold their bodies tight, much like a boxer (but with neither violence nor aggressiveness), or sometimes like a fly buzzing around, on other occasions still like a discreet shadow. Not leave them for a second, but always making sure not to be intrusive. Capture as closely as possible the breath of their energy, while avoiding stifling them... Through them, a context, a background, can be picked out, and the links between History, the collective one, and the smaller, more individual (hi)stories finally connect."

Emmanuel D'Autreppe (excerpt from the booklet)

Suppléments :
Booklet including the author's bio-filmography, film images and an analytical text by Emmanuel D'Autreppe (critic, publisher, lecturer, designer and curator of contemporary art exhibitions, contributor to various magazines, books and catalogues in such domains as photography, video, art cinema and documentary films).

---
LA TUMULTUEUSE VIE D'UN DEFLATÉ
Camille Plagnet
France, 2009
documentary

The film portrays the hectic life of the "Great Z", an engine driver of the Abidjan-Ouagadougou line for 20 years, laid off in 1995 by the National Railways of Burkina Faso following the privatization imposed by the World Bank. The film is a tragicomedy from Africa. We will see the tall and fragile silhouette of a Black, whiteface clown, both melancholy and mischievous, wandering the dusty streets of Ouagadougou. We will hear his peculiar language, his tormented and sharp words telling his past and current trials, his hatred and his hopes. We will watch the moving grimaces of the 54-year-old man, prematurely old from heavy drinking and crying, who stands yet the test of time laughing.

---
ICI-BAS
Comes Chahbazian
Belgium, France, 2010
documentary

Loss of family space, work space, urban space and memory space. These four subdivisions of space tested by time, searching for and responding to each other, contaminated by chaos in a town falling apart.

---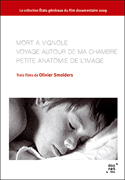 3 FILMS DE OLIVIER SMOLDERS : MORT À VIGNOLE / VOYAGE AUTOUR DE MA CHAMBRE / PETITE ANATOMIE DE L'IMAGE
Olivier Smolders
Belgium, 1998 / 2008 / 2009
documentary

While shooting a family movie in Venice, Olivier Smolders has, in MORT A VIGNOLE, questioned how family images play a part in love and death stories.

Secluded in his room, a filmmaker evokes the journeys and places, real or imaginary, which were the making or the breaking of him. From images collected over the years, Voyage autour de ma chambre investigates, in a poetic manner, the difficulty each person has in finding his true place in the world.

Awarded in multiple international festivals, these films find here a filmic continuation with PETITE ANATOMIE DE L'IMAGE, a silent essay entirely devoted to the anatomic waxes of the Specola museum in Florence.

---
SAFAR
Talheh Daryanavard
Belgium, 2010
Documentary

Amina, Fatoma and Asma are three friends from small and distant islands of the South of Iran. They managed to go to university in Teheran from where they are taking a train that will bring them back to their native village. This ordinary journey transforms as the hours go by in an introspection session during which the girls recall their personal experiences and analyse them with a bewildering lucidity. As the landscapes unfold behind the window, three life paths made of dreams and desires as well as hesitation and doubts come to life.

---
TERRITOIRE DE L'AMOUR
Alexandre Kouznetsov
Russia, 2010
Documentary

One day, Alexander Kouznetzov, photographer, went to a psycho-pedagogical institute four hundred kilometres from Krasnoïarsk where he lives. Since then he has returned regularly. "In the middle of these people, declared crazy and maladjusted, I found a territory where the authenticity and truth of human relationships is unimaginable in the "normal" world. And that is thanks to the project defended by the man who is today at the head of the institute." It is a very particular view, a very special image of Russia that he wanted to transmit: a rattling bus filled with the "mad", plunging into the night after having given a show of songs for prisoners, children – people who themselves are locked up: a metaphor of Russia.

---
AU NOM DU PÈRE, DE TOUS, DU CIEL
Marie-Violaine Brincard
France, 2010
Documentary

From April till July 1994 in Rwanda, a few Hutu resist to the genocidal terror and decide to shelter and to save Tutsi. Today, in spite of symbolic attempts of recognition, they are always marginalized: traitors for some people and potential killers for others. Joseph, Joséphine, Léonard, Augustin and Marguerite tell how, at the risk of their life, they hid Tutsi and helped them to escape. Their words resound then in the places where they resisted, near the Lake Kivu, and thus, they make us sensitive to the humanity that they have shown.

---
JE VEUX TOUT DE LA VIE - LA LIBERTE SELON SIMONE DE BEAUVOIR
Pascale Fautrier & Pierre Séguin
France, 2008
Documentary

"I want everything from life, I want to be a woman and to be a man, to have many friends and to have loneliness, to work much and write good books, and to travel and enjoy myself, to be selfish and unselfish" Simone de Beauvoir to Nelson Algren. With "Le deuxième sexe" ("The Second Sex") in 1949, a seminal work of Western feminist thought, Simone de Beauvoir gained an international following from the 1960s, notably in the US. This documentary endeavours to show the historical, political and social importance of this book, by looking at what the development of women's rights and current feminist politics owe to Simone de Beauvoir.

---