---
THE KILLING KIND
Curtis Harrington
USA, 1973
Horror

Young Terry Lambert returns home from serving a prison term for a gang-rape he was forced to participate in. He seeks revenge on his lawyer and the girl who framed him. But his real problem is his overbearing mother, whose boarding house he resides in and who keeps bringing him glasses of chocolate milk. One of her boarders, Lori, becomes attracted to him. However, while he was serving his prison sentence, Terry developed an interest in rough, violent sex, and gory death. Now, one by one, some of the town's women pop up dead.

Suppléments :
- Interview with Frédéric Thibaut specialist B-movie
– Short film BLOODY CURRENT EXCHANGE of Romain Basset - Teaser

---
LE SPECTRE DU PROFESSEUR HICHCOCK
Lo spettro
Riccardo Freda
Italy, 1963
horror

A woman and her lover murder her husband, a doctor. Soon, however, strange things start happening, and they wonder if they really killed him, or if he is coming back from the dead to haunt them.

---
LE RENNE BLANC
VALKOINEN PEURA
Erik Blomberg
Finland, 1952
drama, horror

A newly wed woman goes to the local shaman to get some help with her lovelife, but instead gets turned into a white reindeer vampire.

Cannes film festival 1953 : International Prize Fairy Tale Film

Suppléments :
- LE CHAMANISME AU CINEMA, interview Georges Foveau
- Photos
- Teaser

---
MESSIAH OF EVIL
Willard Huyck
USA, 1973
horror

A young woman named Arletty (Marianna Hill) drives to the beach town of Point Dune, California, to visit her estranged father, an artist. She finds his house, abandoned. He left a diary in which he addresses her specifically. In it he complains about darkness consuming the town, and horrible nightmares he is having, and implores Arletty to never, ever look for him. His letter tells her to talk to the owner of the art gallery, who sells his paintings. The gallery owner says he has none of her father's paintings, doesn't sell them, no one ever comes in looking to buy his works, and says he doesn't know where he went.

---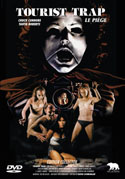 LE PIEGE
Tourist trap
David Schmoeller
USA, 1979
horror, survival

A group of young friends stranded at a secluded roadside museum are stalked by the owner of the place, who has the power to control his collection of mannequins.

Suppléments :
Interview of David Schmoeller

---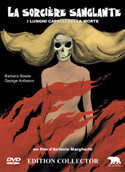 LA SORCIERE SANGLANTE
I lunghi capelli della morte
Antonio Margheriti
Italy,1964
gothic terror

XVI century, Adele Karnstein is condemned to be burned as a witch. She makes a curse on all the family of the count Humboldt…

Suppléments :
Interview with Edoardo Margheriti, Mon ami Nini, Autour de la sorcière sanglante, La sorcellerie : culte des ancêtres et des forces de la nature,photos, livret 8 pages.

---
LE BOULANGER DE L'EMPEREUR – L'EMPEREUR DU BOULANGER
Cisaruv pekar a pekaruv cisar
Martin Fric
Czechoslovakia, 1951
fantastic and historic comedy

Prague, under the reign of Rudolf II. People lives in misery while the emperor spends a lot of money for art. One day, Matej the baker is trapped in the castle's jails. But, this Matej is the emperor's double…

Suppléments :
Sur les traces du Golem ; Jan Werich et le Golem ; Le Golem au cinéma ; Les racines du Golem ; Entretien avec Lubomir Lipsky ; Entretien avec Vera Chytilova, galerie de photos, livret 8 pages.

---
LES GARDIENNES DU PÉNITENCIER
Allan W. Steeve
France, 1979
nazisploitation

After the defeat of the Nazis following World War II, a number of former SS officials took refuge in various latin American countries. In one of these countries, they use a fortress to incarcerate women who must submit to the guards' every desire.
The wicked warden is a woman, who runs the prison with an iron hand, is protected by the counsellor to the Governor, a fellow Nazi.Their evil ways are brought to an end by an organization intent on avenging the victims of the Second World War, in a thrillingcommando raid.

Suppléments :
Presentation by Daniel Lesoeur, interview with Christophe Lemaire, photos, teasers

---
NATHALIE DANS L'ENFER NAZI
Alain Payet
France, 1978
nazisploitation

It is September, 1942. A small village somewhere in Russia. Nathalie, a beautiful young doctor, who moonlights as a Russian secret agent, receives an order from her chief, Vassili, to go to a fortress near the border.
Her mission: find Ingrid Wassering, part of an English spy ring. Natalie must help Ingrid escape or, failing that, must kill her.However, the Germans have discovered Ingrid's
true identity. They have replaced her with one of their own agents. It is this German spy that Nathalie meets, thinking she has found the real Ingrid. While all this is going on, the Intelligence service in London, ignoring thelife and death predicament of Natalie, pressure Vassili to attack the fortress and free their agent.

Suppléments :
Interview with Christophe Lemaire, presentation by Daniel Lesoeur, photos, teasers

---